Part 2 of our conversation about success factors with customer relationship management (CRM) implementations (Part 1: Don't Boil the Ocean & Why You Need a Project Charter) continues on the theme of a unified team approach.
CRM projects are often initiated by C-level executives inside the organization. However, the most successful projects employ not just a top-down approach, but also engage stakeholders across all levels of the business.
Where Do You Start? Top-Down or Bottom-Up?
Most of my own experience with CRM deployments has been driven by executives in response to a perceived need for a solution to address a gap somewhere in the business. Perhaps a lack of visibility on the sales cycle, a desire for centralized information on customer engagement, or a more tactical requirement around deploying tools to assist the sales force to better manage their day-to-day activities.
I welcome examples from your own experience, but I have rarely seen a bottom-up CRM project triggered by end users.
The Motivated Sales Person
The bottom-up approach was a common occurrence in the late 90's and early 2000's when solutions like ACT were quite common. A motivated sales person would find a solution that was cost effective enough to buy for themselves to make their day-to-day jobs easier, but most solutions lacked the ability to scale and support the broader organization.
While an individual or small group effort can still drive a bottom-up approach, the ability to meet the bigger, broader needs of the business is key to organizational success beyond making day-to-day activities easier for a handful of people. Cloud computing and the software as a service (SaaS) movement continue to provide options that could initiate a bottom-up CRM approach, but I encourage all involved to look at the big picture and be sure to select the right solution for the business.
Get Everyone Involved
Whether your CRM deployment was initiated with a top-down mandate or bottom-up need to help your sales team, it is critical to get everyone together on the same path as quickly as possible. You may be able to do this as part of your Project Charter efforts (outlined in Part 1)
This way, you can ensure that all parties involved build ownership of the processes, not just the team that initiated the project and those responsible for the deployment. It is just as important that the end users contribute to the design of new processes as it is to have buy-in and involvement from an executive sponsor.
Your end users will be using the new solution on a regular basis, regardless of whether they helped select the product or not. Involvement of these critical stakeholders in the design of new processes and solution deployment will have a direct effect on not only project success, but user adoption as well. The faster your end users adopt new processes and feel comfortable with the new solution, the sooner you will achieve the business results you set out for when the project began.
If you approach the project from both directions, and assuming that the selection process was driven by your business needs, everyone should end up happy with the chosen platform or product because they all contributed to the process.
Timelines: A Recommendation
Whenever possible, try to run both your top-down and bottom-up processes simultaneously from the very start. Even when collecting the solution requirements at the outset of your selection process; try to collect input from all the stakeholders at the same time, but also anonymously. This way, you avoid allocating any undue bias based on who provided the feedback, and you get a more democratically selected solution and a better chance of a successful roll out.
CRM Solution Selection Criteria and a Sample Checklist
Both parts one and two of this blog series have touched on the importance of selecting the right CRM solution to meet your business needs.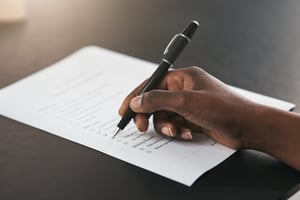 While that lesson may be obvious, it is often difficult in reality. I thought it might be helpful to outline the most important areas to look at during the selection process. For me, selecting the right CRM solution comes down to these six areas outlined by Sugar CRM:
Core CRM Functions
Important CRM Features
Platform
Security / Privacy / Compliance
Pricing / Total Cost of Ownership (TCO)
Vendor Capability
To give you a quick, easy, and editable resource, I compiled these items into a sample CRM Checklist you can download here (ASUG members can also access the document in our community forum).
----------
ONE.Source is a year-round community for SAP Business One professionals; join the discussion in our community forum.
Stay up-to-date on resources and events via the ONE.Source Blog, or follow us on Linkedin, Twitter, and Facebook.