The latest buzzword that you may encounter during 2018 is Industry 4.0, or the "fourth industrial revolution."
If you strip out the marketing hype and buzzwords, Industry 4.0 is basically about improved automation, machine-to-machine and human-to-machine communication, artificial intelligence, continued technological improvements, and digitization in manufacturing.
The Next Industrial Revolution?
This next "industrial revolution" is enabled by four key drivers:
Rising data volumes, computational power, and connectivity;
The emergence of analytics and business-intelligence capabilities;
New forms of human-machine interaction, such as touch interfaces and augmented-reality systems; and
Improvements in transferring digital instructions to the physical world, such as robotics and 3D printing.
According to business and technology pundits, Industry 4.0 is now a globally accepted reality that is affecting almost every industry across the world and is rapidly transforming how businesses operate.
So what does this mean to us as SAP Business One users, and what steps do we need to take to maximize the benefits of these drivers?
My advice to you for 2018 is to focus on gathering an understanding of these drivers and then look inside your own businesses to see how you can take advantage of all four.
Examples You Can See Today
The good news (and I know I say that a lot in my blogs) is that SAP Business One already has many of the components you're going to need to do just that.
IoT in Action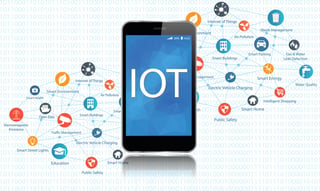 For example, SAP has already demonstrated examples of utilising the SAP Business One Integration Framework (B1iF) to enable business scenarios based on the Internet of Things (IoT). These were demonstrated at last year's Biz.ONE Conference, and my understanding is that they are building more detailed scenarios to share with partners at the upcoming SMB Innovation Summits over the next few months.
(By the way, if you've never heard of the SMB Innovation Summits, these are the SAP Business One partner events that take place around the world, usually during March and April of each year. At these events, SAP updates partners on the strategy for the coming year and delivers product updates, as well as encouraging partners on the sales front. As these events take place, you can expect to hear news of some of the more exciting updates planned for 2018 and beyond.)
Wrangling Big Data
On the topic of rising data volumes, you should have heard from SAP by now about the SAP HANA database platform. SAP has positioned SAP HANA not only as the solution managing these rising data volumes, but also as the baseline platform for new integration and complimentary solution development.
"Open the Pod Bay Doors Please, HAL" – Interacting with Your Business Systems
Of course, not to be forgotten is the issue of human-machine interaction. Just as Amazon Echo, Google Home, and other voice assistants have infiltrated Super Bowl commercials and popular culture, we have seen examples of voice assistants with SAP Business One delivered in demonstrations using Amazon's Echo and Alexa platforms.
All this, along with the latest SAP Business One product road map, shows that the solution is definitely not lagging when it comes to capability in these key areas of Industry 4.0. Again, my recommendation for 2018 is to focus on reviewing and understanding these concepts and technologies, then determining where they can be applied within your business as we undergo this next "industrial revolution" or evolution.
Your View? What Really Matters Most to SAP Business One Customers?
I, along with my colleagues at Eventful Conferences, would love your thoughts on this topic. You can always start a conversation in our ONE.Source community forum (or contact us if you have interested in blogging).
The Eventful team is especially keen to hear about the things that are important to you as an SAP Business One user. As Erick Randolph, the Biz.ONE Conference producer, shares in this blog post, the research process for this year's event is well underway, and your insights are important to this process.
Whether you participate in a Biz.ONE research roundtable, or share your thoughts in our community forum, let us know what you think. Our ONE.Source year-round ASUG Community and Biz.ONE Conference are both tailored to what is most relevant and important to you, the SAP Business One customer. Make your voice heard.
Photos courtesy of iStockPhoto.com.