Now that the new year is almost upon us and preparations for next year are underway, a key step in the new year preparation process is setting up the new financial periods in your SAP Business One solution.
In fact, if you have not yet created the new period and set the parameters correctly, there's a good chance that your system may start rejecting transactions. This is because SAP Business One has the concept of period start and end dates but also factors in the dates when transactions fall due and are entered, as well.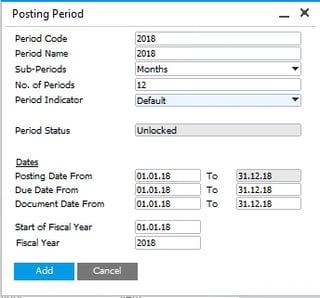 Creating Your New Posting Period for 2018
When you create your new Posting Period for 2018, you'll see that there are three sets of date ranges that you can set. These allow you to control whether or not you can create transactions in that period with dates that fall outside the basic dates of the period.
By default, these dates will align with the new fiscal year — in this case, Jan. 1, 2018 — so the default posting dates, due dates, and document dates all range between 1.1.2018 and 12.31.2018.
But what happens when you hit December 2018 and you start entering transactions that have a due date of January as you give 30 day terms? The system will throw an error.
Adjust the Acceptable Date Ranges
As you factor these important considerations into your new year preparations, you may also need to go back into your current period and adjust the acceptable date ranges.
You can do this from the Posting Period options as well: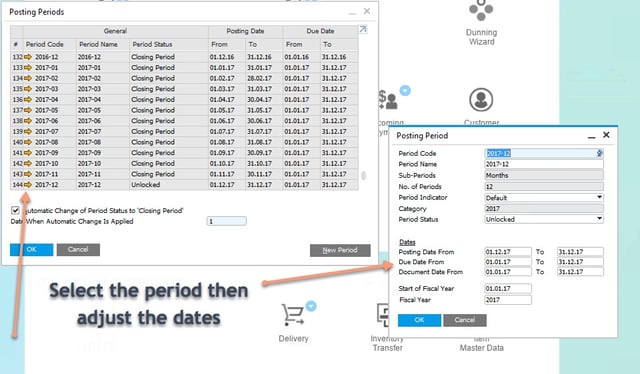 Remember to Lock Up Before You Go
Don't forget to lock your periods once you have completed the end-of-period processes and printed your reports.
If you choose to unlock them in your processes, remember that this will continue to allow changes; and, of course, changes after you have printed your reports can mean you may need to potentially restate your results and reprint your reports.
This less-than-ideal scenario is sometimes unavoidable, so remember that your SAP Business One system allows strong controls and auditing when leveraging its capabilities.
Starting the New Year with ONE.Source
As we look towards 2018, our ONE.Source community will kick-off our year-round curriculum with a theme or two each month. In January, we are exploring logistics, followed by some financial topics in February, March, and April. And, of course, we will take another deep dive into year-end processes later in the year. I hope you will join us.