ASUG is hosting great events this fall for the enterprise information management community and for those in supply chain management and procurement. The ASUG Experience for Enterprise Information Management (EIM) is coming to Chicago October 23–25 and the ASUG Experience for Supply Chain and Procurement is scheduled for October 29–31.
These events are a great chance for EIM professionals, supply chain managers, and procurement professionals who use SAP systems to gain practical knowledge about how to get the most from the technology they have and how to build the systems you'll need for the future. ASUG Research is busy at work on new studies that will inform the topic for each event's keynote presentations. I've seen a preview, and I can't wait to learn the full insights these will bring to the enterprise information management and supply chain communities.
If you're thinking about making the trip to this event, it will be well worth it. You'll learn new things to bring back to work and meet new colleagues, all while visiting a city defined by its architecture, people, and culture.
Sweet Home Chicago
I'll admit that I'm biased. I've lived in Chicago for 25 years and am a Midwesterner through-and-through. But I also love to travel the world in my free time. And I can safely say that there's nothing like Chicago when it comes to architecture, history, art, comedy, cocktails, or food.
Even though both events will be held away from downtown Chicago at the Loews Chicago O'Hare Hotel, I recommend reserving any spare time you have to check out the city. Here are some tips for your visit.
Tip 1: Take a ride on the CTA.
Ubers and Lyfts are both plentiful, but I recommend taking the CTA Blue Line downtown from the nearby Rosemont station. Washington is a good station to get off when you're downtown. Riding the train will give you a real view of everyday Chicago citizens, from every walk of life. As a bonus, the Blue Line runs at ground level (zipping past the cars on I-90), as an elevated line, and as a subway as it nears downtown. So, you'll get a relatively rapid ride with a view for $5 or with a one-day pass for $10. You can get maps, apps, and trip planning info at TransitChicago.
Tip 2: Get to know Chicago's neighborhoods.
Chicago is a city that's a patchwork of neighborhoods, each with their own character. If you have time, I recommend picking out a restaurant to visit in one of our neighborhoods and spending some time walking around. Wicker Park or Logan Square are a couple of good places to tour, as they're quick stops off the Blue Line. Both areas have lots of trendy restaurants, local ethnic dining spots, cocktail bars, and shops. If you do plan to visit a trendy restaurant, definitely make your reservations in advance, especially if you're bringing a group. You'll have a lot of competition. Chicago is full of foodies who scan Eater for the latest openings and the best dishes on Instagram.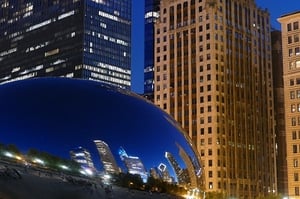 Tip 3: Enjoy the Loop and lakefront.
One of Chicago's best assets is our lakefront, much of which was preserved and kept open for the public to enjoy by our city planners in the nineteenth century. We also have a green belt of parks that stretches along the lakefront and is a wonderful escape from the concrete streets and skyscrapers.
If you can make it to the Chicago Loop, you should walk over to Millennium Park on Michigan Avenue. What used to be unsightly rail lines and disused land in the 1990s is now a jewel in Chicago's park system where you can take photos of your reflection in Cloud Gate, affectionately known as "The Bean." You can see the massive bandshell designed by Frank Gehry, as well as other pieces of art like the Crown Fountain, which cycles through more than 1,000 film clips of real Chicagoans. (A friend of mine has her face included in the mix.)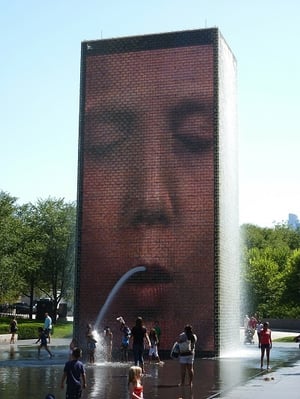 In about a 15-minute walk, you'll be at one of Chicago's many harbors and within photo distance of Navy Pier. You'll see its photogenic Ferris wheel that's a nod to the original amusement created for the World's Fair held in Chicago in 1893.
Tip 4: Have a laugh at the improv.
If you're a comedy fan, you probably already know that Chicago's Second City has fostered some of the world's best comedians and actors. But what you may not know is that you can see an improv show seven nights a week for as little as $15. Check out what's on in the Studio Theaters, where the latest classes of improv students try out their talents onstage. You just might see the next Tina Fey or Jason Sudeikis before they're famous.
Tip 5: Eat the world from the comfort of the Midwest.
Chicago has come a long way from its days as the home to the stockyards and the hog butcher to the world. When I first moved here, the best dining options were stodgy steak houses and red-sauce Italian joints. Now, I miss my city's own food when I travel. Please do yourself a favor and don't stop at Chicago-style pizza. You can taste virtually any type of food you desire here, from tacos to farm-to-table, dim sum, and all forms of fusion cuisine. Some of my favorites downtown are the lively gastropub The Gage or its quieter Italian neighbor Acanto. Both are right on Michigan Avenue overlooking Millennium Park. Moving west and across the Chicago River, I'm also a big fan of Proxi for creative takes on street food and the elegant Bellmore across the street. You can research your options with help from Time Out Chicago. And don't forget to make those reservations ahead.
Tip 6: Drink some craft beer or cocktails with a view.
It seems like a requirement that new Chicago hotels must have an open rooftop bar where you can enjoy one of our local beers or spirits from a sky-high view. If it's a nice night, you can't beat a craft cocktail on the terrace at Cindy's or a game of shuffleboard with friends in The Game Room inside the Chicago Athletic Association, which is now a hotel. There's also the London House with gorgeous views of the Chicago River, located at 85 East Wacker Drive. (Not to be confused with West Wacker Drive, North Wacker Drive, South Wacker Drive, or Lower Wacker Drive. Make sure to get the address precisely right in your GPS.) If it's a chilly day and it's better to be indoors, then you can always have a drink with the most impressive view from the Signature Lounge at the 96th Floor of what was formerly known as the John Hancock building.
Chicago is beer proud, so you'll likely find many of our local brews on tap from Revolution, Half Acre, Begyle, Dovetail, Empirical, Hopewell, or 5 Rabbit—to name just a few. We also have our own locally made spirits, including gin and whiskey from Koval. But beware if someone at the bar asks you to do a shot of Malort. It's an old-school Chicago invention that's more of a hazing ritual than a friendly drink. I know many who love it, but I can attest that it's an acquired taste.
Tip 7: Sail along the Chicago River.
Another more-recent improvement to Chicago is its lovely Riverwalk, dotted with spots to enjoy some dinner or a drink outdoors. I recommend starting from the steps on the southwest corner of Michigan Avenue bridge, then strolling along the path until you reach the floating garden at Franklin Avenue.
If you want to get onto the river, I suggest taking one of the famous architecture cruises offered by the Chicago Architecture Foundation. If you're an architecture fan, the foundation offers tons of other tours in neighborhoods across Chicago, including some of Frank Lloyd Wright's work. One of my favorite buildings is the Rookery, where Daniel Burnham and John Root housed their architecture firm.
If you have questions about your visit (or would like to share tips of your own), let us know in the comments section. All of us at ASUG look forward to seeing you this fall in Chicago.
Don't miss out. Register today for the ASUG Experience for Enterprise Information Management (EIM) on October 23–25 or register today for the ASUG Experience for Supply Chain and Procurement on October 29–31.