The ASUG Experience for HR & Payroll is coming to Toronto October 9-11. As the communications chair for ASUG Ontario, I look forward to welcoming you to the fastest-growing tech-employment city in North America when you join us in Toronto this fall.
How to Get Here (or Not)
My number-one tip for visitors coming to the October conference can be summed up in two words:
"Don't drive."
Toronto is a well-connected city and the conference venue is in an area well served by all kinds of transportation options.
You'll Be Right at Blue Jays Way
In addition to the excellent human resources and payroll content you can expect for this October's conference, we'll be hosting all of our colleagues, delegates, and friends at a wonderful new venue in the heart of Toronto's dynamic King Street entertainment district.
The beautiful Hyatt Regency Toronto is located at the corner of King Street West and Blue Jays Way. It is right in the middle of the King Street Pilot transit zone, perfectly situated to offer you lots of great activities and restaurants within close walking distance.
The Hyatt Regency Toronto is also one of the celebrity hangouts during the Toronto International Film Festival (TIFF) in September, as the festival's headquarters are just across the street in the Bell Lightbox building.
Get Out and About
A little further east on King Street you will find the Royal Alexandra Theatre. This has recently undergone extensive renovations and is now hosting the Tony-award winning musical "Come From Away," a uniquely Canadian story about how the residents of several small towns in Newfoundland welcomed unexpected guests on September 11.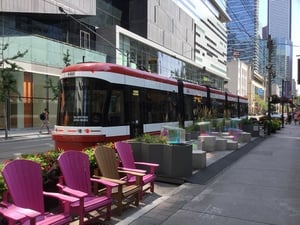 If you want to explore Toronto, you will find TTC streetcars at your doorstep. You can even rent a bike from Bikeshare Toronto to explore the downtown core or the waterfront along Queens Quay. Or you can venture into Chinatown and Kensington Market along Spadina Avenue.
There are literally hundreds of great restaurants in the neighborhoods around the hotel. But if it is a clear evening, probably nothing beats the view from the rotating 360 restaurant in the CN Tower, where you can enjoy a meal while watching the city from the tallest free-standing structure in the western hemisphere.
Contact the ASUG Ontario team if you have any questions about what to do while in Toronto. And don't forget to register today for the ASUG Experience for HR & Payroll in October.