With the impending May 25, 2018 enforcement date of the European Union's General Data Protection Regulation (GDPR), software vendors are pushing out their updates to help meet the new privacy requirements and data management for businesses with customers in the European Union.
For SAP Business One, the recently released version 9.3 patch level four (PL04) addresses a number of these requirements.
Understanding GDPR
If you're up-to-speed on GDPR and what it means for your business, you can skip ahead to the next section. However, if you are looking for resources to help get you there, we've covered the regulation in a few recent blogs:
Updates from SAP on Functional Enhancements for GDPR Compliance
As for the details on how 9.3 PL04 can help SAP Business One customers address GDPR compliance, SAP outlines the specific functional areas now covered in a recent blog in the SAP Community.
Excerpt from the SAP Blog:
The functions of Change Log, System Access Log, General Authorizations, and selective erasure of personal data – available by design in SAP Business One.
Data Ownership Enhancements – already released with SAP Business One 9.3 PL00 (for SAP HANA and MS SQL).
HANA Enterprise Search function to report all occurrences of data stored about queried individuals (SAP Business One, version for SAP HANA only).
Data Privacy Tools – released with SAP Business One 9.3 PL04 (for both SAP HANA and MS SQL)

Personal Data Setup
Personal Data Change Log Extension
Sensitive Personal Data Access Log (Germany only)
Personal Data Management Wizard

Natural Person Determination
Personal Data Report
Personal Data Cleanup
Sensitive Personal Data Encryption / Decryption (Germany only)
---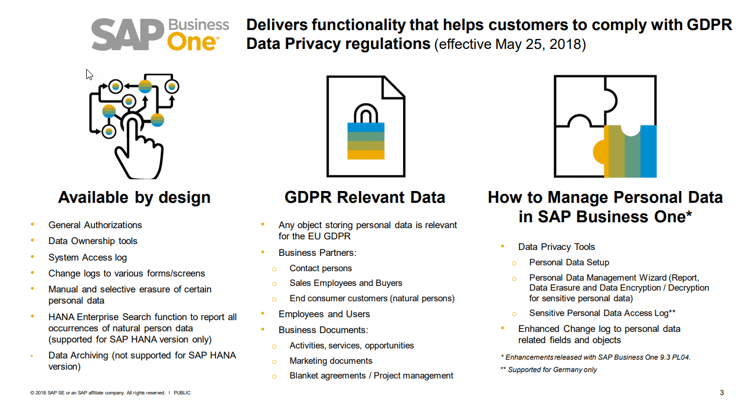 Recommended Steps Forward
The blog stresses that SAP is not herein engaged in legal advice; GDPR compliance is the responsibility of each customer; stating specifically, "SAP encourages each customer in conjunction with their partner to take the required time to understand the legislation and how existing procedures and processes need to change."
Road map forward (from the blog):
Upgrade to SAP Business One 9.3 PL04 to benefit from the GDPR functionality delivered.
Install Remote Support Platform (RSP) and upload the System Status Report (SSR) now, so that SAP is notified that you have upgraded
As far as I am aware, it is not the software vendor's responsibility to track GDPR compliance. I echo SAP's recommendation for each customer to do your due diligence in regarding GDPR compliance and determine what changes are necessary for your business.
As part of your due diligence, the blog also provided some supporting materials available via their redesigned SAP Help portal:
Supporting Materials
To make your life a bit easier, I have brought these documents together in one self extracting archive file for you that you can access here: SAP_B1_GDPR_Documents.
Beyond GDPR | Integration Framework 2.0 in SAP Business One 9.3 PL04
Hopefully, by now, you understand the critical implications of GDPR on your business; and if you've been following my blog posts, I recommend an upgrade to 9.3 (and the latest patch level, PL04) as soon as it makes sense for your business.
Another benefit of an upgrade to this patch level is that version 2.0 of the SAP Business One Integration Framework (B1iF 2.0) is available in this release as well. You can learn more about this exciting new development in another recent blog post: B1iF 2.0 | The SAP Business One Integration Framework You Have Always Wanted Is Here.
With that, we return to our regularly scheduled programming (CRM month). As always, you can ask your questions or discuss these important topics in our community forum.
------------
ONE.Source is a year-round community for SAP Business One professionals; join the discussion in our community forum.
Stay up-to-date on resources and events via the ONE.Source Blog, or follow us on Linkedin, Twitter, and Facebook.