One feature previously missing from SAP Business One was the ability to create timesheets, and then to allocate employee time to projects. I am happy to report that this has been remedied in version 9.3 as part of the Project Management module. However, I present this news with a caveat you'll need to bear in mind as you consider leveraging this functionality.
Timesheets with SAP Business One
When it comes to timesheets in SAP Business One, the "run simple" marketing slogan from SAP applies. That is not to say that the functionality is too simple or not substantial enough to offer value to your business. We use it for my business, and the solution works well for its designed use.
It is important to note that this functionality is designed to be used as a relatively simple solution. The primary purpose is to help you capture, at a high level, where your team is spending their time, and then tie it back to the Projects you have set up in SAP Business One. This functionality works with both internal and external projects.
How to Work with Project Management in SAP Business One 9.3
A customer how-to guide published by SAP in August 2017 provides some helpful context to understanding this functionality. What follows are a few relevant excerpts to explain what is possible for Timesheets.
The table below outlines how you can record quite a bit of information using the Project Management module. Once recorded, you can utilize the query manager to push the information out to use in other applications, such as a more robust solution for project accounting or payroll.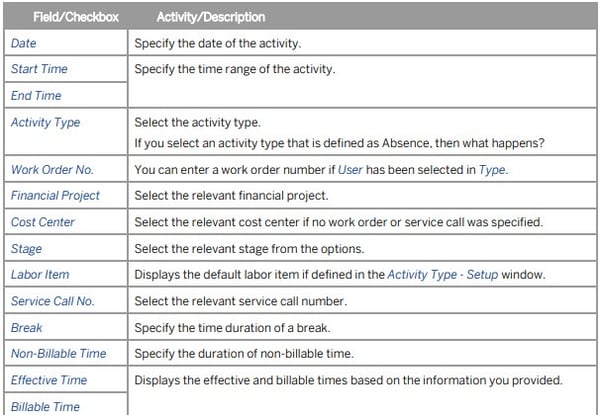 Employee Activity Tracking
You can also define your own activities to track in the timesheet, allowing you to get quite granular with details you want to allocate against projects. These can be tied back to Labor Items from the Inventory Master File as well.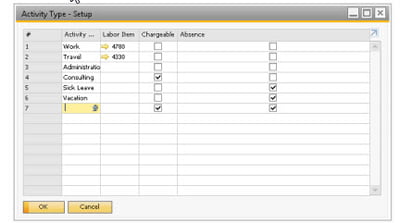 This data can be summarized in reports on the time allocated to a project but bear in mind these are based on the project, not the employee. If you want to get Employee Activity reporting then you'll need to use the Query Manager.
From my perspective, the overall usability rating of the Timesheeting functionality is about a 7 out of 10. I am hopeful that we will see more focus on this area in future versions of SAP Business One, but this is a very useful addition to the product for now.
Project Management Step-by-Step
The latest customer guide for utilizing project management capabilities in SAP Business One version 9.3 inspired this blog post. I recommend spending downloading the how-to guide, and hope you'll send some comments my way to keep this dialogue going.
----------
ONE.Source is a year-round community for SAP Business One professionals; join the discussion in our community forum.
Stay up-to-date on resources and events via the ONE.Source Blog, or follow us on Linkedin, Twitter, and Facebook.